Vetting Service Providers Before Hiring For Your Book?
Posted On: 2015-06-24
by: Amy Harrop
June
24, 2015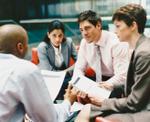 Editing, designing, marketing; they all seem like specialized skills that take years to hone and even longer to master.
However, there are plenty of people who think they can edit because they have spellcheck, or who believe they are a master designer because they know the basics of Photoshop (or even worse, MS Paint).
Donít just pay a random person to work on your book. Make sure theyíre the right person to take the job. Here are a few tips for vetting service providers before trusting them with your precious manuscript.
Compare Needs and Styles
What exactly do you need? Donít say something general like ďan editorĒ or a ďcover designer.Ē Thatís just the tip of the iceberg. Itís time to get deep down and really think about what you need. For example, do you need an editor who works mornings, always uses the Track Changes function on Word and has SEO experience to make your ebook really sing to the search engines? Or, are you looking for a cover designer that specifically works with Illustrator who prefers anime-inspired covers?
Donít start out looking for a general service provider. You need something specific, and youíll only find the right one if your journey starts with a specific list of preferences and skills.
Small Sample
You can ask the service provider all the questions you want, but sometimes the only want to really see if he or she matches your needs is to have them do a little bit of work. This can be harder with agencies since they are less personal than individual freelancers, but even agencies can be persuaded if you tell them that you plan on giving them more work if they pass your first test.
Just give the person a small bit of work. Instead of having them edit the whole book, have them look at a few pages. This is beneficial for several reasons. First and most obvious of all is that youíll see if they really have what it makes to be a professional service provider. Secondly, youíll see if their work matches your needs. For example, someone might be a great editor, but they might pay more attention to the logical progression of events when youíre looking for an editor that attends to the more emotional aspects of the story and ensures that the wording evokes the most emotion.
Donít think that youíll get free work. You are just asking the freelancer or agency to do a small bit of work, but youíll still have to pay for it. Donít expect to hear back from a service provider if you ask them to use their precious hours without some monetary compensation.
Proven Experience
True professionals have experience. In fact, many of these professionals have so much work that they often have to say no to new projects. This means that they should have experience, and lots of it. A beginner may just list a book or two that they worked on, but their sales pitch relies more on enthusiasm than experience. Thereís nothing wrong with hiring someone like this, and they might work even harder for the money since they have something to prove, theyíll also tend to be much cheaper than an experienced professional.
Just be sure that you know what youíre getting into. Newer vendors will typically make more mistakes than experienced ones, and they probably arenít as skilled, but the cost is a major benefit to consider.Just be sure to get a resume of some sort so that you know who youíre working with.
So, what should you be looking for when checking their experience? First of all, try to verify that the experience is real. Anyone can say that they write for APP or Vogue, but try to verify their experience by talking to webmasters who own websites they worked on or getting in contact with supervisors or managers (if they work for an agency). Also, be sure that they are known as reliable, creative workers who match your expectations. Their experience and track record will give you a good idea of what you can expect if you hire the service provider. Lastly, make sure their work is good. If they are showing off a document with a lot of errors or a cover with a sloppy design, then you know that youíre in trouble.
Ask Others
I never like when articles tell you to ask your friends, it seems like a cheap tip. What is much better is to talk to people who used the service provider. They will usually list references, or there will be a list of users who tried the service provider in the past. Get in touch with them and see if they liked the provider. If so, then you might have a winner on your hand. If you hear about poor scheduling, getting the run around or unprofessional communications, then you might want to keep looking.
Conclusion
Hiring any service provider can be tough because youíre giving someone command of your bookís future. They can make it golden with their talents, or they can ruin it by providing you with a poor service. Be sure to vet them before putting a single dollar down unless you really donít mind having your book touched by strangers (inexperienced, unprofessional strangers). It just takes a little bit of work to ensure that youíre getting the right person, and all the time spent will be worth it in the end.
Amy Harrop
regularly publishes articles on her blog
http://amyharrop.com/
and she produces guides to help writers improve their writing and the reach of their books. You can pick up one of her more recent guides, which exposes the secrets to creating best selling books on Amazon that require
little to no written content.